Aloha Ac's Mist Sanitizer
Aloha AC Mist Disinfectant Solution for Your Workplace and Home!
Aloha AC Mist is the solution you need for your surface cleaning issues at the office and home. You probably wonder whether other detergents work similarly as well.
Well, the answer to your problems is not that difficult to discern. Often, the issues surrounding the use of an effective detergent involve the intensity to which the cleanser can deal with a small amount of the solvent used. To figure this out, you only need to put Aloha AC Mist to the test and compare it to the other disinfectant detergents currently in the market. You will realize that, for most soaps, the concern is not necessarily to get all the germs destroyed but to offer the feel of chlorine and use of other compounds that only inhibit bacteria for some time.
The Aloha AC mist intends to ensure that you have a disinfected floor or surface for at least a month.
For more information on Aloha AC's Mist disinfectant, please call our office at (954) 228-6060 or submit your contact details above.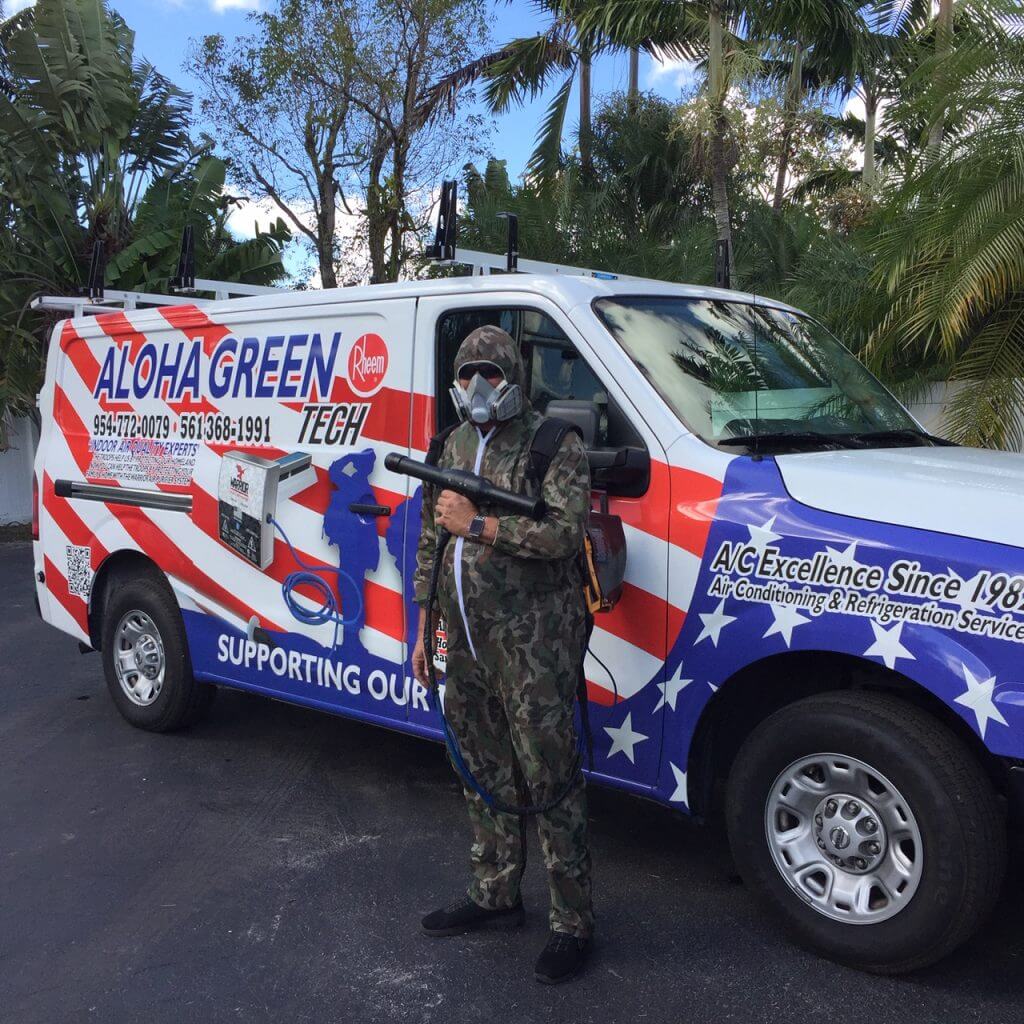 Aloha AC Mist is a solution that contains all the necessary disinfectant solutions to deal with the germs that always land on your desk at your office or surface areas at home. You need to use the detergent if you are going to have an office where many people get to interact with the desk and even expose you to the concerns over various viral loads that may land on your desk from time to time. You want to ensure that you deal with the germs that are not only invisible to your naked eyes but also regularly present in the air and can land there from many different sources. Similarly, due to the concerns over the Corona epidemic and other viruses in our environment that ravage us regularly, you need to ensure that you do your most to protect the work environment from such epidemics. Using a disinfectant detergent to clean your surfaces goes a long way to deal with the Corona outbreak.
The Corona Virus seems not to be going anywhere, and so is our susceptibility to germs and bacteria. Generally, we do not need to be alarmed if we take the right precautions and ensure that we minimize contact with infected persons. However, we face two major concerns; we do not know the iota of viral infections, and neither do we know who is infected. All we can do is ensure that we take all the precautions we can manage and ensure that eventually, we do not put ourselves at risk. The epidemic will end once we have the antivirus to deal with the concern. For now, let's use Aloha AC Mist and disinfect our surfaces even as we cover our faces with face masks. Hopefully, by doing all we can, we shall be Corona-free soon.
For more information on Aloha AC's Mist disinfectant, please call our office at (954) 228-6060 or submit your contact details above.