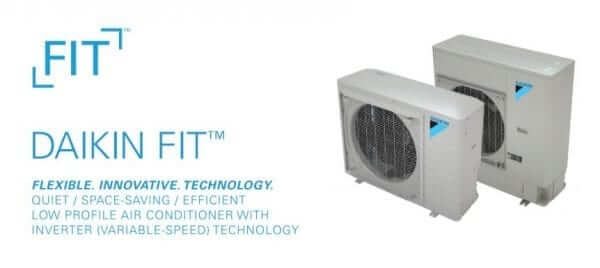 Aloha is a Daikin Fit Contractor! Quiet / Space Saving / Efficient Low Profile Air Conditioner with Inverter Technology !
The Daikin Fit system is a side discharge, smart HVAC system that won't compromise on comfort and connects to ducted solutions traditional to the unitary market. In a market saturated with expensive high-tiered inverters, the system provides a premium mid-efficiency inverter at an affordable rate. The low profile of the outdoor unit offers solutions when a traditional cube style cannot.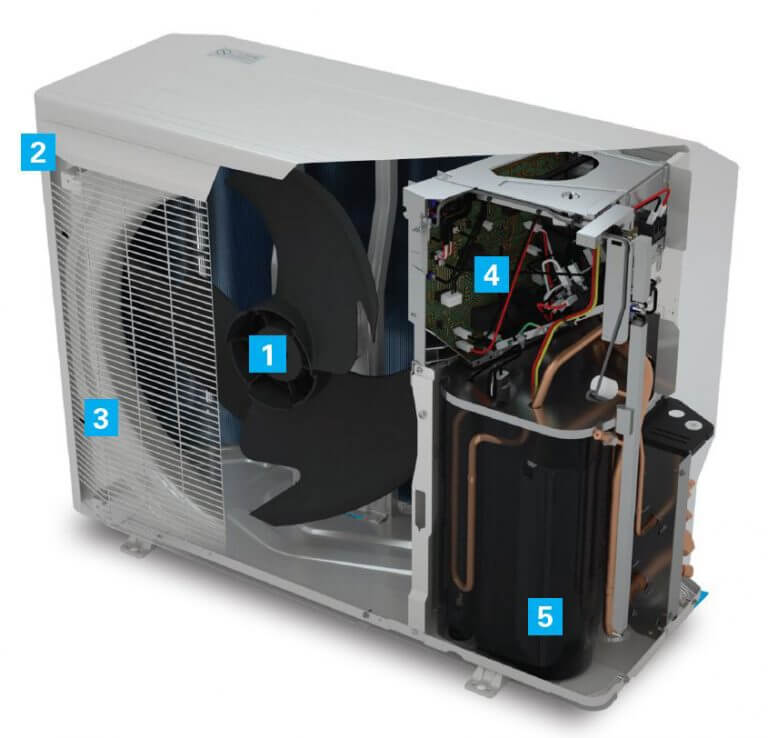 DX17VSS
DAIKIN FIT OUTDOOR UNIT FEATURES
1. Variable Speed DC Fan. –
High efficiency and low sound levels.
2. Blue Fin Corrosion Coating. – 1000 hours salt spray rated as standard. Hydrophilic coating to help keep the coil clean.
3. 7mm Coil. – High heat exchanger efficiency and compact casing design.
4. Inverter Board Cooled by Refrigerant Circuit. – Elimination of condenser fan pressure drop caused by heat sink used on previous generations.
5. New Swing Compressor. – High efficiency. Low sound levels.
Aloha Air Conditioning's installation teams have undergone rigorous training and certification. When considering a new HVAC system, make sure you look at more than just price. Quality Daikin Fit systems that are installed by top-quality contractors will give you years of trouble-free comfort. Call or emails us today for even more information.
Aloha Air Conditioning, Inc. / Davie, is proud to install, service and provide maintenance on the many quality Daikin products while providing services you can depend on. We pride ourselves in exceptional customer Daikin service.
Call Aloha Air Conditioning, Inc. / Davie, to schedule a service appointment. For a free, no-obligation replacement consultation. We will determine the perfect system for your home or business. We look forward to hearing from you and adding you to our long list of satisfied customers.
Aloha Air Conditioning, Inc./ Davie, has been servicing the Broward County – FL Area with quality Daikin products that you have come to trust and depend on.
Aloha Air Conditioning, Inc. / Davie, is proud to sell and install quality Daikin air conditioning and heating products and we also services all other major brands of equipment.
We can help you determine the perfect system for your home or business regardless of size. As a proud Daikin service contractor, we cannot wait to impress you!
Proud Daikin Contractor. Contact us right away at 855-88-ALOHA (25642).