Safeguard Your Family's Health
Complete Home Air Purification Package!
Protect your home or business from germs, bacteria, viruses, mold spores, and lower your electric bill.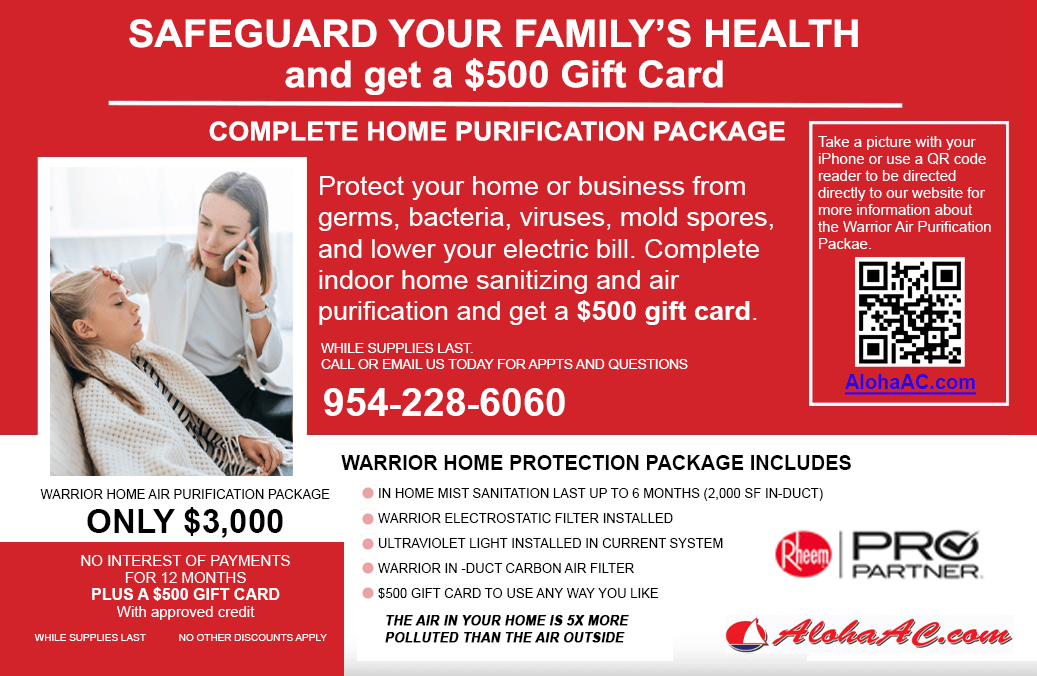 GET A $500 GIFT CARD TO SAFEGUARD YOUR FAMILY'S HEALTH
AlohaAC is making our Warrior Home Protection Air Purification package affordable by offering a $500 gift card towards our service.
Protect your family's health with our Warrior Home Protection Package.
Call (954) 228-6060 to speak with one of our knowledgeable agents about purifying the air in your home. The call is FREE – get more information!
Keep in mind, this is a limited offer – act today!
For more information on Aloha AC's Home Air Purification Package, please call our office at (954) 228-6060 or submit your contact details above.
INDOOR AIR QUALITY
Indoor air quality is a critical factor for the health of your family. According to the EPA, indoor air is often five times more polluted than outdoor air! Use AlohaAC products to improve indoor air quality throughout your home or office. Our products clean the air as it passes through the central air (HVAC) system.
An added bonus! AlohaAC's Warrior Indoor Air Quality products also improve the efficiency and longevity of your air system by keeping it clean and free of mold.
Call our office today at (954) 228-6060 to purify the air your family is breathing in.